Extreme Cool – Making Liquid Nitrogen in a Deep Underground Clean Lab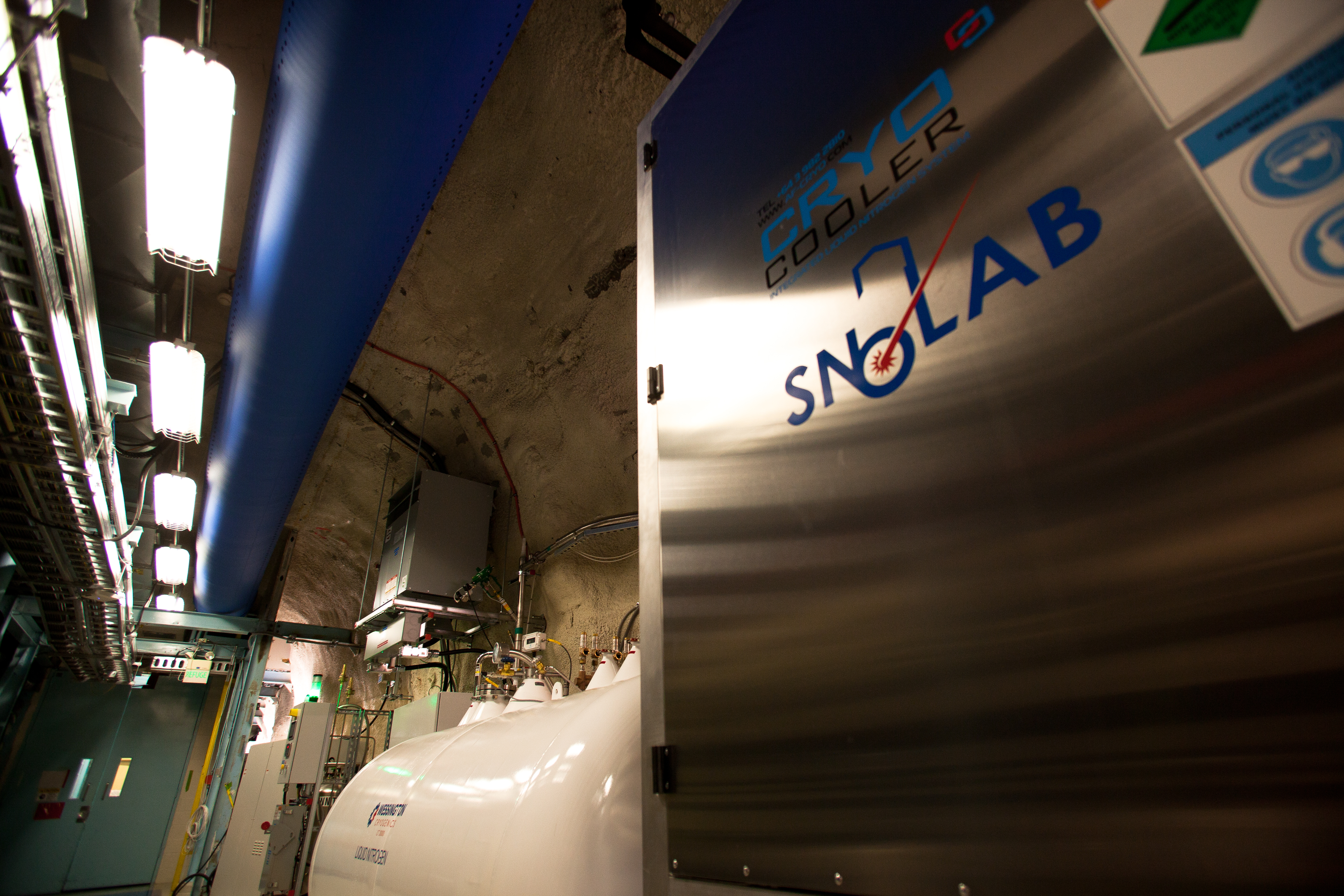 SNOLAB is Canada's deep underground research laboratory, located two kilometers underground in Vale's Creighton mine near Sudbury, Ontario, Canada. SNOLAB is a unique facility, providing a low background environment designed for scientific research and operates a 5,000m2 underground campus as a class-2000 clean lab. While the science program is focused on astroparticle physics, the location is also well suited to biology, geology and low radiological studies. 
SNOLAB is an expansion of the underground facilities created to host the Sudbury Neutrino Observatory (SNO) experiment. The success of SNO, both scientifically and as a model for an underground facility, helped to secure the funding necessary to construct SNOLAB and the expanded facility that opened in 2012. Since then, the lab has hosted a suite of world-leading experiments focused primarily on dark matter and neutrino studies. These experiments are run by large international collaborations, many designing multi-tonne detectors that require cutting-edge technology and take decades to plan, build and operate. 
One of the challenges of hosting sensitive detectors operating at cryogenic temperatures is providing the necessary support services in an underground environment with limited space and unique shipping challenges. (Every item and person entering the lab travels underground on the mine cage and can be thoroughly cleaned before entering the clean lab.) To support the experiments effectively and efficiently, SNOLAB has built several facilities in the underground lab: an ultrapure water plant, a scintillator plant (effectively an oil refinery), low-background counting facilities, a chemistry lab, a machine shop and more. Recently, three diesel generators on the surface were tied into the lab's power circuit to reduce the impact on experiments during power outages and planned maintenance. 
As SNOLAB prepares to host next-generation detectors that have increasing demands in terms of cooling and cryogenic operations, continuous power becomes more essential.
Next-generation experiments that operate at cryogenic temperatures will also have higher liquid nitrogen demands. SNOLAB experiments already have high LN2 demands: some experiments use it for cooling and others use it as a high-purity inert cover gas. (Cover gas maintains constant pressure in large detector vessels and provides a barrier between the detector medium and lab environment.) Several of SNOLAB's underground support facilities, such as the ultrapure water plant and low-background counting facility, also use LN2 in their processes. 
Until recently, all LN2 used in the underground lab – about 2,000L per week – had to be shipped underground in 230L dewars. In addition to the resources and logistics necessary for shipping and cleaning these dewars, the process took time, resulting in nitrogen boiloff during the journey. To meet this challenge, the SNOLAB team recently completed installation of an LN2 plant that can produce 18L/hour in the underground lab. This achievement is the result of years of planning and hard work by nearly every team involved in the underground and surface operations of SNOLAB. 
"It is an impressive accomplishment that means SNOLAB now has on-demand LN2 underground, ensuring continuous access to its current and future science program," said Steven Back, Operations Engineer for the project. SNOLAB contracted Fabrum to create a custom plant that would meet the lab's LN2 needs and work within the constraints of the lab's location and cleanliness requirements. The plant is made up of four components: a 3,000L dewar, a nitrogen generator, an air compressor and a cryocooler. 
The dewar was manufactured by Wessington in the UK and was purpose-built to ensure it could be smoothly shipped underground. It travelled by sea, stopping in France and Germany before heading up the St. Lawrence River to Montréal, and then to Sudbury by truck. Holtec (USA) produced the nitrogen generator which scrubs everything except nitrogen and argon from the compressed air with a resulting purity of 99.998% and less than 10 ppm oxygen. The highly specialized pulse tube cryocooler was machined and manufactured by Fabrum in New Zealand, alongside the control panels and acoustic enclosure for the plant. The cryocooler was also shipped by sea, via the Panama Canal, before arriving by train from Philadelphia. 
"The completion of the plant itself is a big milestone," said SNOLAB Director of Operations Allan Barr. "Not only does this remove the logistical demands of shipping liquid nitrogen underground, but it also helps to expand our technical expertise to support future experiments." Experiments no longer wait for shipments of liquid nitrogen to arrive underground. In addition to reducing labor demands, having an operational plant underground frees up valuable space on railcars for experiment components and other supplies.
Said SNOLAB Director of Research Jeter Hall, "Many of the future experiments planned for SNOLAB have substantial cryogenics requirements. This plant enables research and the development of robust operations that will bolster the scientific impact of these projects." The installation of this plant and the additional capacity it brings positions the facility well to host next-generation experiments – a significant milestone in the year that SNOLAB is celebrating its tenth anniversary.
Image: LN2 plant installation. Credit: Fabrum-SNOLAB
Share this post: